Salas Laboratory: Dr. Salas facilities include 800 square foot laboratory in the Science Building of Rutgers-Camden.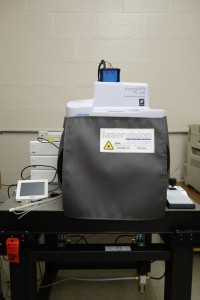 Salas Basic Laboratory Equipment Includes: Oaklon PC 2700 pH/mV/Conductivity/Temp Meter, Fisher Scientific Analytical Balance, Mettle Toledo Analytical Balance, Sartorius Microbalance, Four Vacuum Desiccators, Fisher Vacuum Oven, Precision Thelco Oven, Biobots 3D Bioprinter, M3D 3D Printer, Millipore filtration manifolds, TitraLAB Karl Fisher 1S2B Titrator, Whirlpool Refrigerator, and common wet chemistry glassware.
Chemical Characterization: Brukers Alpha-P ATR-FTIR with Diamond Crystal, Xplora Plus Raman Horiba with two Linkham tensile testing and temperature control systems (the Linkham system can be used in all Brukers IR units), and Brukers Lumos IR with video capability
Thermal Characterization: Discovery TA Series TGA and DSC. The TGA is equipped with an in-line IR Bruker Tensor 27 system for the structural and chemical composition analysis during pyrolysis.