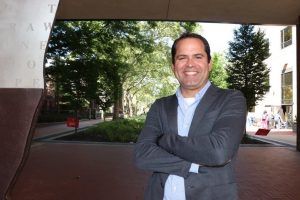 David Salas de la Cruz, Ph.D., EIT

Associate Professor of Chemistry

Director of Chemistry Graduate Program

Rutgers University-Camden
Salas-de la Cruz has a Ph.D. in Chemical and Biomolecular Engineering from University of Pennsylvania. Previously, he acquired a B.Sc. degree in Chemical Engineering from University of Puerto Rico-Mayaguez and a M.Sc. degree in Chemical Engineering from Villanova University.  Salas-de la Cruz has more than 15 years of industrial and academic research experience. He has worked at Kimberly-Clark, LifeScan a Johnson and Johnson Company, Dow Chemicals and Holtec International. Currently, he is an Associate Professor and Director of the Chemistry Graduate Program for the Department of Chemistry at Rutgers University-Camden. The research of Salas is aimed at understanding the relationship between structure and natural material properties during the coagulation of polysaccharides with proteins using ionic liquids in order to design novel and tunable bio-based films for the medical, environmental and energy fields. He is author of over 18 publications, 1 equipment license and 1 patent. His research has been funded by the National Science Foundation, American Chemistry Society SEED program, ARMY REAP Program, NJSGC and Rutgers.
---
Degrees Received
Ph.D., Chemical and Biomolecular Engineering, University of Pennsylvania – 2011
Master of Science, Chemical Engineering, Villanova University – 2007
Bachelor of Science, Chemical Engineering University of Puerto Rico-Mayaguez – 2000
Publications
Generated by Google Scholar
---